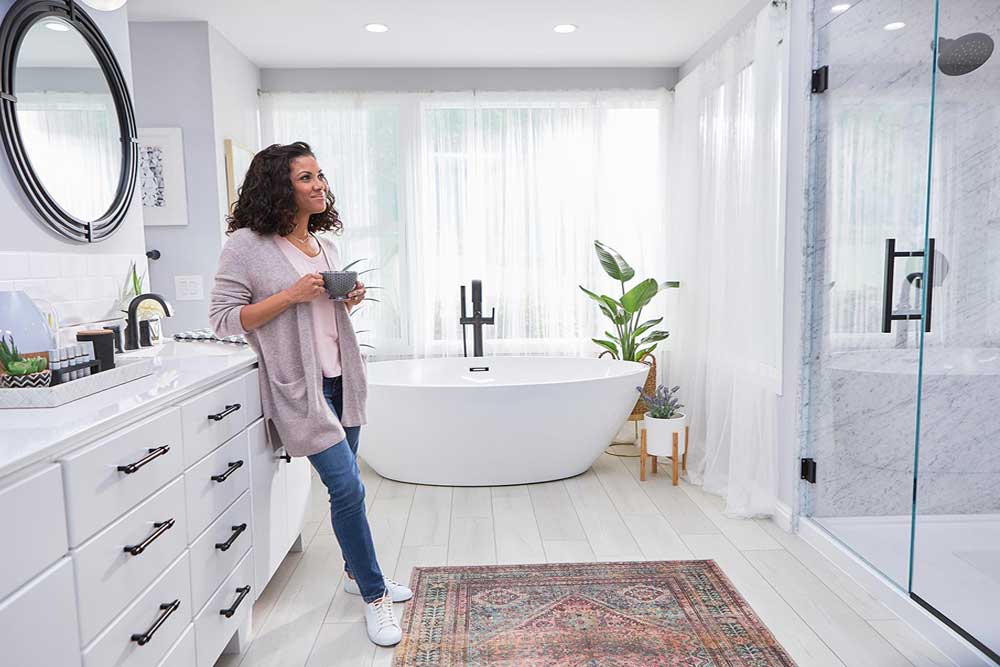 Doing bathroom makeovers is still an exhilarating and nerve-wracking experience for homeowners. Revamping your bathroom can improve the aesthetic appeal of your house as well and can boost its value of the house. However, homeowners might feel that it is a big investment to remodel their bathrooms. You can remodel your bathroom, but you may need an expert's help to figure out how to do it to increase efficiency. Before hiring any professional contractor, check this guide to look over the positive possibilities and shortcomings of bathroom makeovers you may face.
Things to Consider during Bathroom Makeover:
Research Design Ideas: Bathroom Renovation projects can cost in your pocket. Before you start the makeover of a bathroom project, you should have an idea of how you want your bathroom to look. Magazines and online websites are available to get some great ideas for revamping your bathroom or may hire an expert to deal with it. When you get the design for your bathroom, it is easy to plan the budget and estimate the prices of materials used in the bathroom makeover project.
Use Affordable Items: A new bathtub can be a great addition to any bathroom. You can find used bathtubs at a variety of places, including online classifieds websites and salvage yards or if you wish to buy a new one you can. There are lots of companies out there that offer variously featured bathtubs. New tiles can also brighten up a bathroom. You can also consider salvaged or recycled tiles. In this way, you can find budget-friendly items and products to upgrade your bathroom. It also helps you to buy high-quality products at reasonable prices.
Get Good Lighting: LED lighting is the most energy-efficient lighting you can use in your bathroom. It can save up to 75% more energy than incandescent lights. Besides, it will last up to 20 times longer. LED lighting comes in different colors and design elements for your bathroom. It is easy to install and can be used for a DIY project. LED lights are also good for your eye and don't harm the environment much.
Fit a Nice Shower: Showers have surpassed the popularity of bathtubs. A bathtub requires more space and takes a lot of effort to clean. Nothing beats coming home and having a luxurious shower after a long day. Not only is it a great way to relax, but it is also a great investment. Home buyers love luxurious showers, so highlighting this feature could make your home more appealing to potential buyers. Plus, you can enjoy all the benefits of a luxurious shower now, including multiple showerheads and heated floors.
Mount a Vanity or Counter: If you want to open the bathroom space, use a vanity or counter to make your bathroom look bigger instead of wall-to-wall cabinets and open the space. It gives the illusion of more space while still giving you plenty of storage.
Plan a Budget: Consider your budget before you start remodeling your bathroom. A planned budget will help you understand how much money to spend and how much your ideal project would cost. Without a solid budget, you may not be able to keep track of the finances of the bathroom makeover project. Also, some things can be done by yourself, and look for stores that will let you buy materials at reasonable prices. You can hire a professional to make a reasonable plan for a bathroom makeover.
Install Storage Facilities: Having storage space in your bathroom helps you keep things organized and clean. But this feature is mainly ignored when it comes to bathroom renovation. Extra toiletries and fresh towels can be stored in proper storage space. It is better to store shampoo, soaps, and other bathroom supplies on vanities or counters. The use of additional storage in the bathroom can improve its appearance and function.
Summing Up!
Consider this list of must-do things to avoid mistakes and save costs on a bathroom makeover. Also, if you hire a contractor for help, this guide will help you make an informed decision. We can also help you to revamp your bathroom.