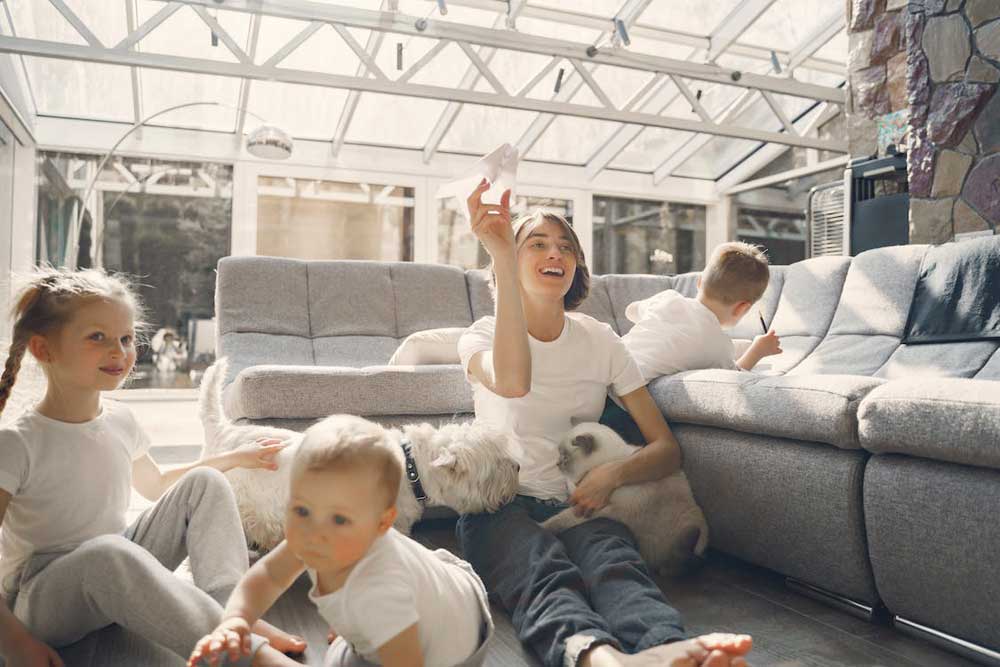 Life with kids and pets can be messy — but modern products make it easier to keep your home looking beautiful for longer. Thanks to new durable fabrics and washable rugs, you don't have to sacrifice style to protect your interiors. You can decorate designer living areas without being afraid to use them. Ready to learn more? Below is a list of tips for helping you keep your furniture looking good for the long haul:
1. Pick the right fabrics. When you're browsing living room furniture stores, remember that material matters. Your upholstered pieces instantly offer more longevity when they're made with performance fabric. Brands such as Sunbrella, Crypton and InsideOut specialize in making materials that can resist spills, stains and odors. Likewise, certain types of fabrics tend to be more long-lasting: If you're going to go with leather, look for a textured variety that can better camouflage damage. In eating areas, you might want to opt for wipeable materials such as vinyl that are simple to clean. Whatever you choose, you can rest easy that your pieces are safe when you buy sofas and lounge chairs made to withstand the abuse of an active household.
2. Know how to protect them. On top of choosing durable fabrics, you also want to take steps to protect whatever surfaces you have. Before getting something upholstered, you can have the material treated with stain-proofing or knit-backing services, which can strengthen and improve the lifespan of your pieces. Afterward, you can use fabric-protecting spray such as Scotchgard to enhance the endurance of your materials.
3. Use fabric cleaner when necessary. Be ready for spills by keeping fabric cleaner on hand. That way, when a toddler spills tomato sauce on the recliner or a pet tracks in mud on the rug, you can pull out the cleaning spray and quickly wipe away the mess.
4. Choose dirt-hiding colors. While white sofas or rugs can be beautiful, always remember that they naturally require more upkeep. To save yourself the burden of constantly monitoring for stains, opt instead of a darker beige or grey color that will conceal everyday wear. Along the same lines, if you have a big, black dog, buy furniture dark enough to hide the inevitable shedding. Furthermore, busy patterns naturally conceal staining better than solid colors can.
5. Get removable covers. Sofas and chairs that have zippers or otherwise removable covers make it possible to completely remove or replace the covering. See a stain on your favorite reading chair? Remove the cover, pop it in the wash and you have a refreshed piece of furniture. Keep in mind, though, different materials will require different care. Make sure you're washing your covers appropriately to avoid shrinking or premature damage.
6. Cover favorite furniture with a blanket. Placing an attractive quilt or blanket over your sofa not only enhances its style, but it also provides protection to your upholstery. Should a kid or pet have an accident while lounging, you simply remove the throw and wash it.
7. Buy washable, wool or polypropylene rugs. Certain types of rugs make it easier to remove stains. The market of washable rugs has greatly expanded, and now there are all kinds of possibilities for what you might like in your home. Likewise, rugs made of wool or polypropylene have a great track record for resisting staining and holding up to heavy use.
Whether you're moving into a new home, redecorating or looking to extend the life of your existing furnishings, the above tips show that there's a lot you can do to protect your pieces. By investing in quality couches, chairs, rugs and other pieces — and knowing how to care for them — you get to keep enjoying beautiful living spaces for years to come.
Author bio: Troy Simmons is General Manager at Bel Furniture, a leading furniture and mattress retailer. Simmons is a local Texan who has over 20 years of experience in the furniture business.