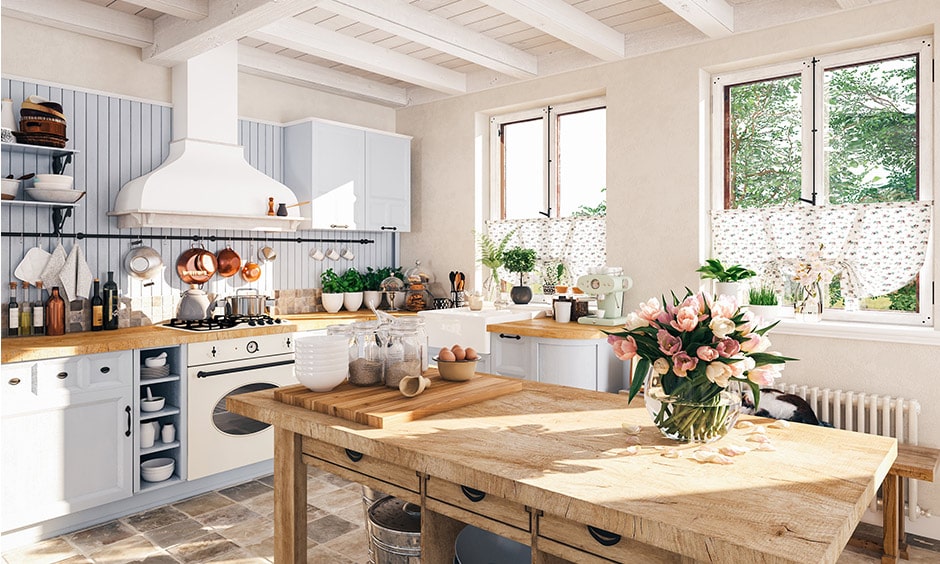 Vintage. Retro. Rustic. Shabby chic. Whatever you call it, it seems that people just can't get enough of style that harkens back to simpler times. Whether from nostalgia or simply an appreciation of early twentieth-century design, 'vintage' is very much sought after by interior design lovers the world over.
Vintage style encompasses designs from the Pre-war 1920s era all the way up to the Fifties, which means there's a huge span of styles to take inspiration from when designing a kitchen interior. From delicate floral patterns to bold colourful prints, 'vintage' encompasses a broad scope. With that in mind, here's how to get that vintage kitchen look you've been dreaming of.
Retro Appliances
Some of the kitchen appliances we couldn't do without today were first introduced into homes in and around the first half of the twentieth century. The sleek, stainless steel appliances we see today however would look somewhat out of place in a vintage style kitchen. Popular Fifties style appliances often featured softer, more curved edges and came in bold or pastel shades. Smeg is well known for its gorgeous vintage style fridge freezers, available in a range of lovely pastel shades. You could save hundreds on vintage style appliances by shopping for ex display appliances, helping you build your dream kitchen even on a tight budget.
Vintage Accessories
Vintage kitchens make great use of accessories to add a rustic flair to the decor. Fortunately, it's super easy to find vintage kitchen accessories. Try visiting your local thrift store or flea market and keep an eye out for upcoming auctions. You could also try your relatives. Who knows what vintage treasures they might have gathering dust in the attic? Or, if you're really struggling to find the perfect retro accessory, several designers such as Cath Kidston and Orla Kiely have taken inspiration from days gone by in their ranges.
Colors, Prints and Patterns
Vintage style is known for being unafraid to experiment with different colors, prints and patterns. Florals are always popular and add a rustic, folksy vibe to your decor. Or if quirky and bold is your thing, take your pick from a myriad of funky patterns and bright shades. Pastels are common in vintage decor too, think mint green, cornflower blue or rose pink.
Part of the beauty of vintage style is that it's totally okay to mismatch. In fact, it's encouraged! Blend pastels with bold prints and quirky kitchenware or accessories. Have fun and experiment to see what works.
Keep it Simple
It can be tempting to go over the top with vintage style. But remember that in these eras, people would have lived much more simply than we do today. If you truly want to embrace vintage style, keep it simple. Use decorative accents sparingly to make a bigger impact overall. Stick to basic materials such as wood, copper, brass and cotton.
Practical and Pretty
Vintage isn't just about looking pretty. It also features some extremely practical elements. Open shelved storage was very popular as people spent a lot of time in the kitchen and required easy access to kitchenware, utensils and ingredients. Many practical tools were on display in a vintage kitchen. Consider displaying vintage style copper pans by hanging them from a hook, or using a rack to showcase and store plates.
Wear and Tear
Part of the vintage charm is showing that items have seen some action. Brand shiny new things do not fit in with the vintage style. In the early twentieth century, 'make do and mend' was the common mentality, so it wasn't uncommon to see patched fabrics or repainted furniture, giving that used and loved look to the home's decor. Try upcycling some old furniture or look for some distressed wood for that shabby chic vibe.
Ultimately, vintage is all about showcasing history and personality through unique design; evoking a sense of simpler times and having fun with colours, patterns and textures. The beauty of vintage is that no two designs look the same. Vintage is not going anywhere soon. Who knows, maybe one day today's contemporary designs will be considered vintage!